Large rooms can function as so much more than just a large sitting area.
Identify several possible functional areas within the room, such as a conversation zone (or two or three!), a media zone, an area for a writing desk, a console or a game table, a dining area or perhaps a reading area.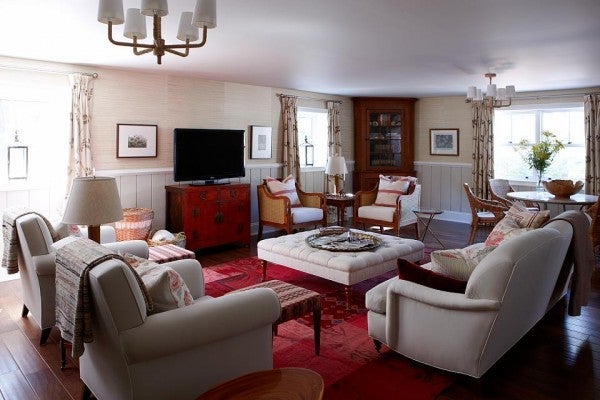 Creative lighting.
No matter what size of a room you have, lighting can make a difference in how the room feels. A room can look awkward if you have too many lamps so here are a couple of tips for lighting a large room.
Perhaps pick two or three lamps of larger scale with similar shades and then mix in slimmer less obtrusive metal floor and wall lamps to bring lighting all around the room. Mixing in glass lamps can also prevent lamp overload. You can have an outlet put into the floor near the perimeter of a conversation area for a lamp cord if it isn't convenient to plug it in the wall.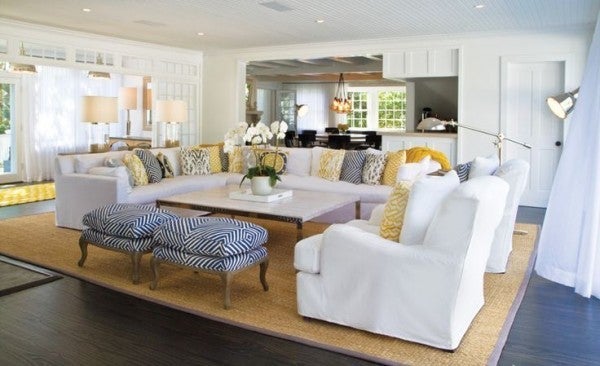 Scale matters.
Do you have tall ceilings that makes your room feel out of balance? Opt for taller furniture whenever possible. If furniture is all short, your ceilings will feel too tall and your furniture will be dwarfed. Consider a taller bookcase, an armoire, taller backs on chairs and sofas and taller accessories.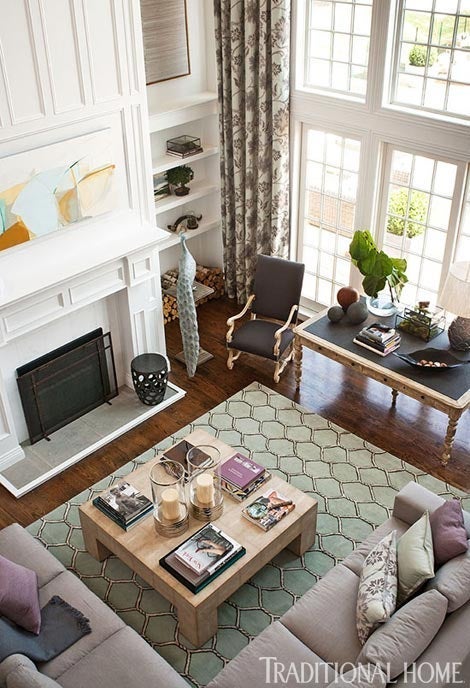 Use color.
 Color and pattern can be used to break up big expanses of walls in a great room or cut the size of a tall wall down to a more comfortable height. Add wainscoting with varying shades of neutrals or colors painted above and below the molding. If you have a high ceiling, you may want to try a simple trick to cozy up your room. If you paint the ceiling a shade or two or even several shades darker than your walls (or use paneling!), your ceiling won't seem as tall and your room might feel more snug and co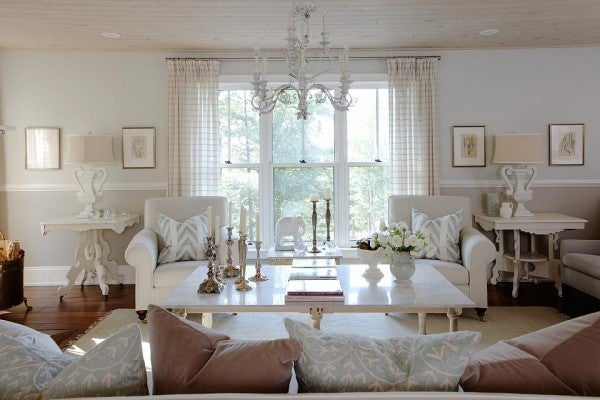 .
Avoid too much wall 'hugging'. 
One thing that often looks odd is a large room with the sofa pushed back against one wall and the chairs on the opposite size of the room against the other wall, leaving too much open space in the middle. With a larger room you can pull seating out from the walls to create a much cozier conversation area around a focal point like a fireplace. Don't fear empty walls, you can use wall space for art, buffets and consoles, benches and bookcases or additional conversation areas where the furniture can be pulled closer together.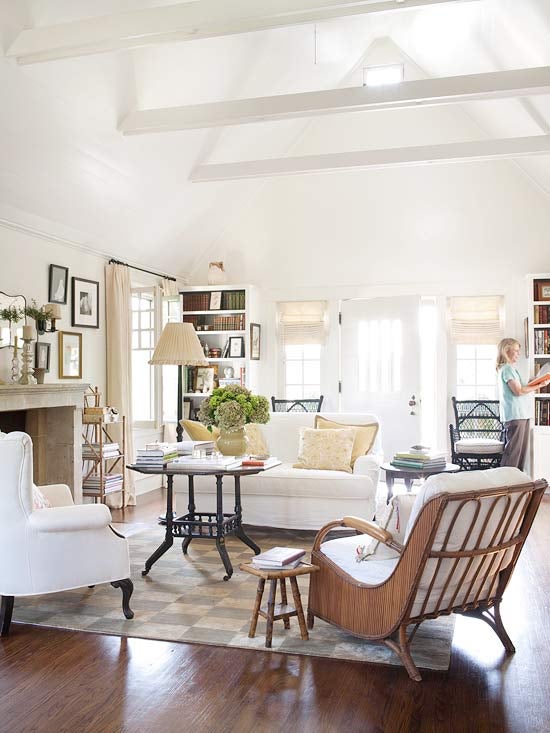 Bold is best.
Art work and accessories in a big room should be bigger and bolder. If you have framed prints or photos for your wall, go with a larger size than the standard 8 x 10 or 5 x 7 frames. Go group larger pieces together to make an even more bold punch in a room rather than several smaller pieces spread throughout the room.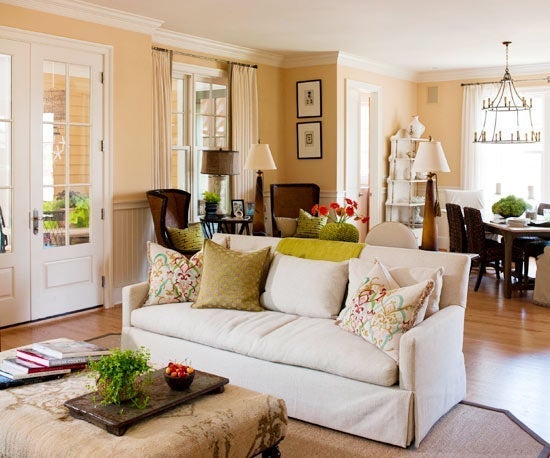 Paint two-tone walls.
Painting color on your walls only part of the way up creates a cozier feeling, tricking the eye into thinking the ceilings are lower than they are.
Use wainscoting as a natural guide or simply tape off a line and paint everything below it.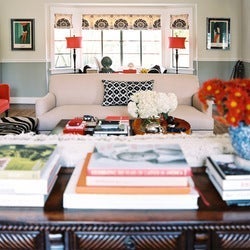 Use a daybed as a room divider.
In a really large living room, you may wish to create two full seating areas. Mark the separation while keeping the flow between the two zones with furniture you can easily see over: a daybed, bench, or chaise is a good option.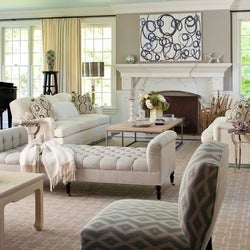 Define zones with a console table.
Another option for sectioning off parts of a large living room is floating your sofa in the middle of the room and placing a console table behind it.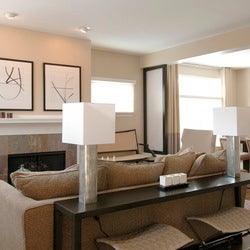 Comfortably fill a large space with an L-shaped sectional.
Large, modern spaces are especially suited to accommodate a great big L-shaped sofa. This piece screams comfort.
!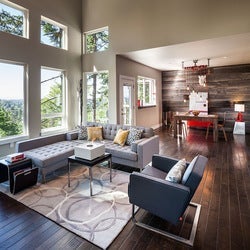 Use an L-shaped sectional as a room divider.
Another great place for your L-shaped sofa is between two seating areas or dividing the living and dining spaces in an open-plan space.
 .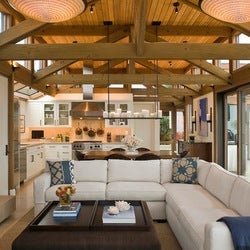 Create an intimate spot for two within a larger room.
Especially with large living rooms that are well suited to entertaining large groups, it can be easy to overlook the fact that we are not always hosting parties!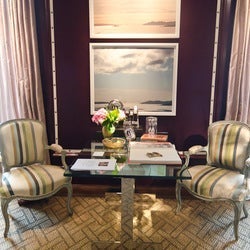 Create a second seating area or reading nook.
In a large living room there will likely be an odd corner that remains unfilled. If you put as much effort into this corner as into the "main" seating area, it may well become your favorite hangout spot.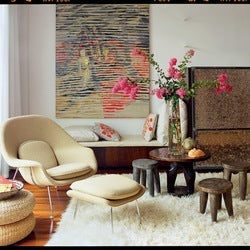 Here is a clever way to use different materials
to clearly define the cooking/dining and living zones. The contrasting tones of the wood panels and crisp white cabinetry play an
important role too.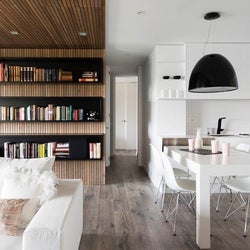 Consider a ceiling treatment
. A decorative ceiling can be used to visually separate different areas in a room. Here, a striking geometric pattern frames the kitchen from overhead and makes it feel more intimate, creating a distinct zone that's physically connected to but visually stands out from the surrounding living space. Notice how the rug defines the lounge area, too.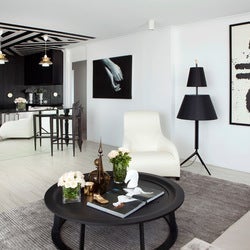 Install a curtain. 
One of the easiest (and DIY friendly!) ways to split a large space into different zones is to hang curtains from your ceiling. Choose heavy drapes to provide total privacy or sheer material if you want to create separate sections without compromising the room's light, airy ambience when the curtains are drawn. For a look that's fresh and fun, select a patterned, textured or brightly coloured curtain, as it'll act as
a feature wall when closed.